I speak at large and small events all over the world. My latest talk is Life After Bullying – Three Steps to Inner Peace. It is based on my new book, and in the talk I share my own story and demonstrate some of the tools you can use to overcome past traumatic experiences like bullying and abuse.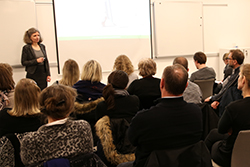 One of the most popular topics is Stress Management – Understand Your Stress Capacity. There are many tips you can use to manage stress on a day-to-day basis, but unless you address the individual reasons that reduce your stress capacity, you are only treating symptoms.
One of my personal favorites is Regenerating Images in Memory – Overcome Past Trauma. This talk is based on the revolutionary RIM method developed by Dr. Deborah Sandella. I am a big fan of this method and am both a Master RIM Facilitator and a RIM Essentials instructor. If I get at least 60 minutes, I can give a mind-blowing demonstration of the power of this technique.
I can also create a custom presentation for your event or lead longer workshops.
If you are interested in hearing me speak at your event, contact me at [email protected].